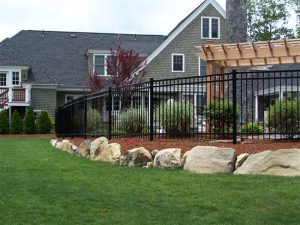 A neighbor with a beautiful and reliable fence installed cares about the value and upkeep of his home. Such a neighbor also cares about the entire neighborhood as well as the community. In other words, a good fence comes from a good neighbor and helps make a good home. There may be many companies in Isanti MN make sure you look around, get free estimates and ensure the company you hire to install your fence is Highly Rated!
When you're ready to put up a fence around your property, you'll want to hire a company that can reliably get the job done and one you can trust. We are the guys you're looking for. Here's why we stand out from the rest:
Highly Reviewed Fence Installation Company
Our company has been in operation for years electing fences. Over the years, we have been committed to providing the best services to all our customers in Isanti MN, at the commercial, residential, industrial, and municipal levels. We are a highly rated company: 4.8 stars and over 65 reviews on our Google business.
When you hire us, we commit ourselves to make you proud and refer us to your friends, family, and colleagues. We also offer our installation services at competitive costs, and that's why many property owners choose us.
We Offer the Best Fencing Designs
Our company offers the best fence designs available in the market. We have a team of fence installation professionals who are highly experienced, and meeting all your demands isn't a difficult task for us. Whether you require a wood fence, vinyl, or any other type of fence, we will draw the ideal design.
As a trustworthy and experienced company, we have a gallery of many designs that we have crafted for our previous clients that you can refer to and choose the right design for your fencing. By choosing us, you'll also receive professional suggestions on the best materials available.
Five Years Installation Warranty
Warranty is one of the many benefits of working with us. We are confident of the service you offer you and, therefore, stand behind it by offering you a 5 year installation warranty. The majority of our products we install have additional manufacturers warranties, so you will never be left out in the cold with a broken fence after you hire us!
Highly Communicative Fence Company
We listen to you, understand, and give you professional suggestions and advice where appropriate. When you get in touch with us, we will respond immediately. Before we start the installation, we'll ensure that we have agreed on everything you need. We work to deliver beyond your expectation. Choose us for quality installation and competitive pricing.