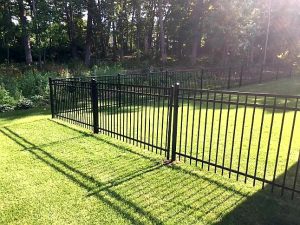 A professional fence installation adds what's known as "curb appeal" to the appearance of a home. Additionally, when a quality fence is elected on your property and has been done professionally, the value of your property goes up. And by more than what you have invested into it! That makes a professional fence installation an easy choice when it comes to home improvements.
Top Reasons to Choose a Professional Fence Installation:
Knowledge and Experience
A fencing company has experts with knowledge and experience that you don't have that they can use when installing your fence. The company will do and complete the job more quickly as they have installed a lot of fences before. This is not just a weekend task, this is what they do for a living. Moreover, you're going to have fewer issues that can result from DIY installation.
Right tools for the Job
Some of us may argue that putting up a fence isn't necessarily difficult. However, installing a fence so that it looks straight, square, and attractive can be very challenging. You have to possess professional fence installation skills to be able to put your fence properly by yourself. By allowing a fencing company to handle the job, you'll be sure that it's going to be done correctly. That's because the company is equipped with the proper tools required to getting the job done.
No crooked Fence
With a professional installation, you won't have to put up with a crooked fence. And if that were to happen, the company should be willing to come and correct it for you as part of the installation contract.
Avoid Over-digging
Hiring a company to fence your property for you also means that you won't experience "over-digging." Sometimes, when a DIY is putting up a fence, extra holes are often dug due to measuring mistakes. The holes will usually remain beneath the fence after the fence has been installed. A professional fencing company has a lot of experience and that type of mistake is always rare. Your fence will be set up fully even and upright, without damage to your backyard, landscape, or any part of the surrounding shrubs.
Best the best fence design
A fencing company in Isanti MN can also assist you to decide the type of fence that best suits your needs – both for your home's value and curb appeal. Keep in mind that there are so many types of fencing materials and choose the right one can be daunting. With the help of a professional, you'll be able to choose without difficulty.
Skilled Isanti Fence Installation Professionals
Leaving the fence installation work to a professional is always a valuable thing to do. You get to save time and many in the long run. A professionally installed fence is a significant value to your property.