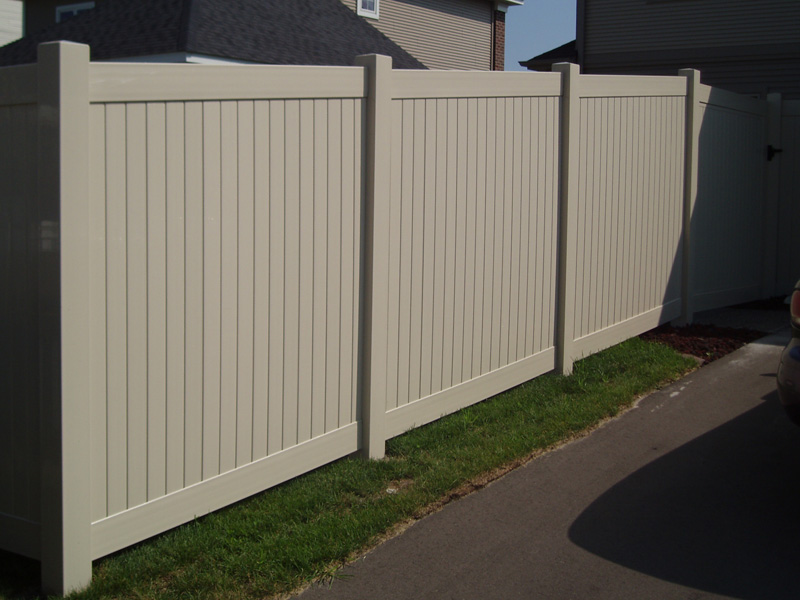 Have you heard of Bufftech® Vinyl? Here, at Arrow Fence Co., we love the stuff! Our Vinyl Fence Company in Ham Lake, MN swears by it. This brand really makes vinyl fencing look good, because it is all about the quality. Fencing doesn't have the luxury of being a snow bird or migrating at the first sign of the seasons changing. No, once it is installed, the fence will have to fend for itself. Otherwise, you will be the one tending to it. It didn't take us 50 years to realize that when a customer hires us to install a maintenance free vinyl fence they don't want to do the tending. That is why we proudly offer and install this quality fencing and back it with a 5-year installation warranty.
Different Types of Vinyl Fencing Options | Semi-Private, Private & Picket Styles
Stucco – This privacy vinyl fence style incorporates the look of stucco, without all the chipping, crumbling or cracking. No signs of settling when you choose this fence alternative. Keep your yard private and looking good without all the hassle.
Chesterfield – If you love the look of a wood privacy fencing but don't want to spend the hours of annual maintenance, the chesterfield vinyl fence style is up your ally. Emulating the look of wood, this fence style will leave your neighbors guessing while you don't have any fence maintenance to attend to.
Contemporary – Not wanting to put a wedge between your neighbor and you? But still in need of a fence? This contemporary style of vinyl fencing won't block total view of your neighbors, but it will give you complete control of the comings and goings on your land.
Lexington – Don't keep up with 'The Jones'', instead outsmart them by installing the Lexington style vinyl fence. They say, 'ignorance is bliss', so when that beautiful fence addition blocks your view the standards they set will be non-existent to you.
Imperial – Like a fence with a little bit of breathing room? An Imperial Vinyl Fence style might be a good choice for you. This semi private vinyl fencing imitates the look of wood, comes in many colors and has just enough space for a breeze to come through.
Vinyl Fence Company Ham Lake MN Color Options
All color choices are subject to the style of fence you choose, but the choices are anything but limited!
White
Natural Clay
Autumn Brown
Almond
Weather Blend
Timber Blend
Arbor Blend
Artic Blend
And the list goes on!
Contact Arrow Fence Co., a Top Vinyl Fence Installation Company in Ham Lake, MN. (763)755-0088