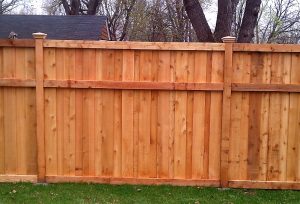 The choice to add a Privacy Fence in Blaine MN is popular right now. Arrow Fence Company is a local and reputable Fence Installation Team that can provide you with a glorious new fencing addition. A very popular fencing style is Privacy Fencing. Let's explore some of the many benefits of hiring a professional fence contractor for your upcoming addition.
Privacy Fence Benefits | Fencing Company Blaine Minnesota
Confidentiality – With quarters so close together in areas around Blaine, Minnesota, it is easy to see why added discretion is desired. Arrow Fence installs privacy fences to meet our clients needs. Whether you would like privacy from you neighbors or for your dog – our skilled fence installation experts can share with you some supportive ideas on the idea.
Noise Reduction – Living in the comforts of the suburbs offers many benefits and some drawbacks. If one of your drawbacks is loud noises, a privacy fence can help you keep the peace on your plot of land. A privacy fence acts as a noise barrier, so no matter what is causing the loud levels, a privacy fence can decrease the volume.
Harsh Weather Reduction – A solidly built privacy fence can help keep the condition of your yard a little safer from the weather. Fences, installed correctly, can decrease the amount of wind within the boarders, and act as a barrier for plants and vegetation nearby. Drafts can bring fall leaves blowing into your yard that aren't yours, but a privacy fence will greatly diminish these types of issues that pop up now and again. Preventing you from doing more yard work.
Control of your Space – When you designate an area to be fenced in, you have much more control of your property and what's within it. Deter population from cutting through your yard, animals from munching on your hostas, and keep kids in a safer area all when you hire an expert to install a privacy fence.
Blaine Privacy Fence Installation Company | Privacy Fencing
Privacy fencing can take many looks and require different amounts of maintenance. Choosing what your fence will be constructed out of is an important initial step. Below are two of the most popular Privacy Fencing Styles that we offer.
Cedar Wood Privacy Fencing – Cedar wood can transform into an elegant, timeless and secure privacy fence. However, Cedar Wood Privacy Fences require maintenance. Neglecting to maintain the wood fence will result in premature wear. Which dramatically decreases the working lifetime of your fence. Which is why it is very important that if you select a Cedar Privacy Fence, you are committed to the maintenance.
Vinyl Privacy Fencing – Our Maintenance Free Vinyl Privacy Fencing only requires a rinse off when noticeably dirty. But you should expect to pay a little more for the convenience. Our Blaine Privacy Fence Company offers the best vinyl the fence industry provides, which is BuffTech Vinyl.
Hire Highly Rated Fence Installation Professional for your new Privacy Fence Installation.
Fill out our online form, call us during work hours at the office or send us an email anytime for a free estimate on your Blaine Privacy Fence Addition.