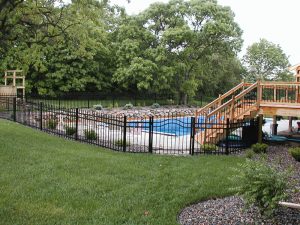 Benefits of customized fencing in your yard
Looking for a new fence can be a daunting task. With so many types to choose from, you may be wondering which is the best direction to go in. Have you heard of or considered installing an ornamental fence? Our experienced fence installation contractors can provide you with the best quotes and educate you on the best types of ornamental fences to suit your style. Here are a few reasons to commit to a new ornamental fence.
Customization of Ornamental Fencing
A very attractive fence is key for many people. Ornamental fences provide just the right visual enhancement to your yard. The wonderful thing about these types of fences is that you can have them designed as you see fit. From loping scrolls and stacked arches to geometric rails and smooth rings, you can make your fence as unique to your home or building as you would like.
Security With Ornamental Fence
Just because this type of fence contains the word ornamental that doesn't mean it is for decoration only. Fences are placed for security and that's the main function of this ornamental variety. They provide a clear marker for your property lines while complimenting your architectural design and landscape. The addition of a gate or two is often seen to promote the idea of security and to reinforce that idea by allowing added durable physical barriers.
Ornamental Fencing offers Longevity
The metal material your ornamental fence will be made of is built for longevity. Unlike wood fences, these fences require minimal maintenance and are not susceptible to rot. Ornamental fences are typically made using steel, iron, or aluminum, making them very stable and long-lasting. Not only can you choose a nice-looking finish, but that finish can also allow the fences to avoid corrosion and rust. Replacing your ornamental fence will not even be a thought for many years to come.
The benefits of fencing in your yard will be enhanced by adding an ornamental fence to your area. You will be able to rest easy knowing that your attractive new fencing is not only providing a design for yourself and your community but also serving as a solid hassle-free barrier that will provide security to your home. Contact us now for your free fence installation estimate!