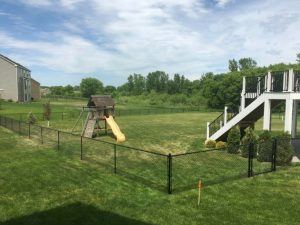 Chain link fencing is one of the best fencing materials. Due to its strength, durability and various height options, this type of fence can bring a lot of benefits to different properties, including residential, commercial, industrial, government, and public applications. Professionally installed chain link fences offer an excellent safety barrier to keep people and animals away from potentially dangerous structures like mine sites or electrical substations.
Benefits of Chain Link Fencing for Different Properties
Cost-effectiveness – This is perhaps the biggest benefit of chain link fencing. It's cost-effective and reliable in terms of offering security and maintenance. The design lets you have gates as well, which saves you extra expense.
No Light Obstruction – Chain link fencing allows you to have a secure fence without the requirement of putting extra lights around your property. Thanks to its material and design, this fence is off full visibility and has no light obstruction.
Customized designs – Chain link fencing has a customizable wire mesh design with different options of wire color and thickness to suit your exterior décor. So, whether you're running a pre-school nursery or any kind of business, you can choose a thickly coated chain link fence with bright color.
Quick and easy installation – Most commercial properties opt for this Isanti fence because of its fast and easy installation regardless of the height or size of the area being fenced.
Pet containment – Some homeowners don't like their dogs being chased by passersby or troubled by kids in the neighborhood. A chain-link fence can help you avoid such issues. The wired mesh design offer visibility so that you can your dog can see what's going on outside.
Little to no maintenance – Busy families can opt for this type of fence because of its minimal maintenance issues. All you might just need to do is prune off the small creepers that might be growing off the lawn on and off.
Trespassing – Though this is a punishable and common offense, it's usually difficult to penalize. Commercial property owners don't have to go through the trouble of catching someone red-handed while trespassing their properties. Instead, call Chain Link Fence Installers Isanti MN and deal with it easily.
Chain link fencing is one of the most convenient fencing materials available. Whether it's a commercial, residential, industrial, municipal, or any type of property, this fence can bring a lot of benefits as described above. Get in touch with a professional fencing company in Isanti today and get this efficient fence installed around the property.