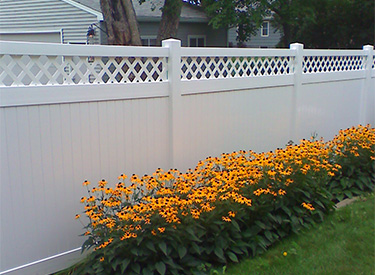 If you are a resident of Blaine, Andover, Coon Rapids or Ham Lake and are looking for a Fence Company to install exactly what you want, Arrow Fence Co. is a fantastic solution! We install Vinyl, Cedar, Aluminum, Steel and Chain Link Fences to Perfection. Our first estimate is always free, our prices are affordable, and we are fortunate enough to have many clients that were so happy with their fence that they wrote a review about us on Google Business and/or Facebook.
Take a look at our Facebook Reviews & Google Reviews!
Your fence is not just a perimeter; it is a work of art!
A fence can do a lot of things, keep your family safe, pets close, neighbors at a distance and even add to your property value. But only a property installed fence material will do any and all of that. A haggard fence will do just the opposite…lower your value, become a safety hazard and catch the wrong kind of attention. That is why it is so important to carefully select the fencing contractor you choose to finish the job.
Our Fence Company Specializes in Installing a Handful of Fences in Blaine, Andover, Coon Rapids & Ham Lake
Cedar Wood – If you are wanting to keep a natural look, there is nothing more natural than a Cedar Wood Fence. Though they do require some maintenance to stay pristine, they last beautifully for many years when tended to properly.
Vinyl – There is something so put-together about a vinyl fence. Maybe it's the extreme low maintenance or sleek design. Regardless of why, if you gravitate towards this type of fencing, you will be astounded by what our team can do with your vision.
Aluminum – For a custom elegance with extreme durability, an Aluminum Ornamental Fence is the ticket. With little-to-no maintenance and a look with a commanding presence this fencing style pleases many. With many colors to choose from and customizations, you can truly get a one-of-a-kind fencing addition.
Steel – Ever heard the saying 'tough as steel'? Our steel fencing can account for that. We can even install steel fencing that would stop a truck from breaking it down. Not saying that is for everyone, but if you are looking for the strongest barrier around your home, it is steel fencing for the win!
Chain Link – Great for friendly dogs, kids and just a casual fence to have around. Chain link fencing can give you the perimeter you want without closing you in or blocking your vision. Also, the most affordable fencing option and another low maintenance material choice.
Contact Arrow Fence Co. today for a Free Fence Estimate at your Blaine, Andover, Coon Rapids or Ham Lake Property. Email info@arrowfenceco.com or call us at (763)755-0088