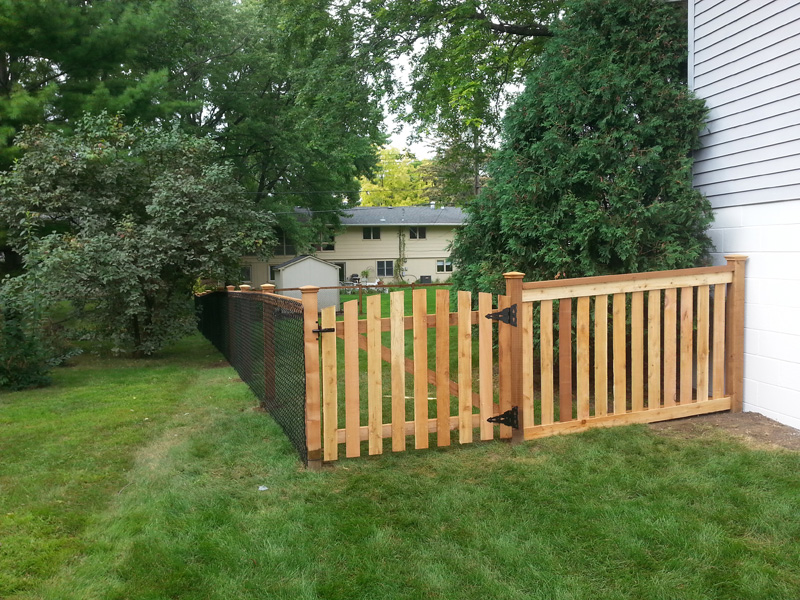 As a resident and homeowner in Isanti MN, you can add to the value of your yard with an affordable chain link fence. This type of fence is a great way of creating a boundary around your backyard while still keeping the space open so that you can easily see it all around. Over the years, the quality, appearance, and durability of chain link fences have significantly improved. So, if you plan to install this type of fence, there are many benefits to enjoy.
Check out our California Style Chain Link Fence Gallery & our Vinyl Coated Chain Link Fence Gallery
Versatile Appearance of Chain Link
This type of fence is available in a variety of appearances. The basic gray-colored and galvanized chain link fencing isn't the only option that can be installed at home. Additionally, it can be easily enhanced with the vinyl-coated fence in colors such as green. Black chain link fencing is also available as well as other options including the ability to include wooden posts and rails in the fencing.
Chain Link Installation
It's easy, quick and cost-effective to install this type of fence with the help a licensed professional who will also give you many years of reliable service. Isanti chain link fence installation is mainly done using galvanized posts, which are concreted securely into the ground. Once they are concreted, they can be there for many years without any maintenance required from you. Depending on the length of your fence, strainer posts and end posts may be utilized.
Zero Maintenance Fencing
Chain link fence requires zero maintenance because it's made of galvanized chain-link wire, which gives you the benefit of no-maintenance hassle-free fencing. The fence adds value to your property and gives you peace of mind knowing that your yard is secure.
Isanti MN Fence Installers
Chain link fence offers a clean and subtle appearance if installed in the right environment and by an experienced person. This type of fence is generally the least expensive type of fencing, which makes it suitable for fencing for homeowners who don't want to spend a lot of money. Our MN fencing contractors with over 40 years of experience offer a 5 year warranty, which saves you money and the trouble of replacing or repairing your fence for years.