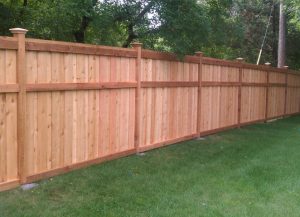 As a resident of Isanti MN, you have many reasons to install a fence around your property. Some of them include privacy, architectural enhancement, or even borders. Regardless of the reason for adding this element around your home, you'll need the assistance of a reputable fencing company and that's where we, Arrow Fence come in.
Whether you want to fence a commercial or residential establishment, we offer many types of fencing materials to choose from based on the desired aesthetics, upkeep requirements, and durability.
Chain link fence – This is a cost-effective way of enclosing a space on your property. The chain link system is made from galvanized steel and consists of top rails, line posts, and terminal posts, which are usually set in concrete. This type of fence can be a perfect option for someone looking to keep pets in or other animals out.
Wood Fencing – The fencing is often utilized in neighborhoods for privacy purposes. It can also be an excellent option to set boundaries for pets and kids. That's because there's less chance for gaps and holes at the bottom.
Ornamental fence – Best of both worlds. The fence protects your property and still enhances the look of your backyard. An ornamental fence is a great option if you don't want to protect yourself with large walls of wood.
Vinyl fence – It's attractive and relatively maintenance-free. Vinyl is quite less susceptible to fading, rotting, and other weather and time effects than wood. The fence is also easier to maintain, which makes it a perfect choice for busy families.
Privacy fence – You can opt for a privacy fence if you wish to keep external sights and sounds out. This kind of fence will also prevent you from the invasion of your privacy by outsiders. Choose to install a privacy fence if you have a deck, pool, patio, or yard that is overlooked by the neighbor's house.
Fence gates – They are very important to the success of your security fences. They will help you keep intruders from walking right through your front door. We are skilled enough to install even the most high tech security gates, if that is what your location needs.
Why we are the Best Fence Installation Isanti MN Option
We are dedicated to providing you, Isanti MN resident, with the best fence designs. We are aware of the best materials that are available out there in the market and we know the material that will best suit your needs.
After many years of operation in this area, we understand the local climate very well and we are able to provide fence installation and repair to your home up to the highest standard of living. We are committed to ensuring that your fence stays in shape for years. We not only offer a great value but also incredible quality. And since the customer is always right, your satisfaction is our highest priority.