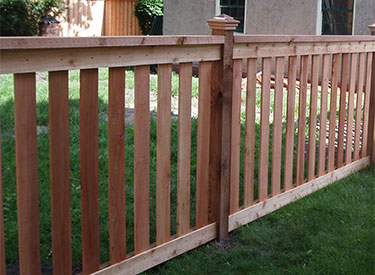 Close your eyes for a minute and picture your yard… is it everything you want it to be? Do you have the privacy you desire? Are your kids and pets safe roaming your land? Installing a fence can give you the satisfaction of safety for your family and privacy from your surroundings. Our fence installation company aims to help you achieve that feeling of security and satisfaction in your newly installed fence.
What Type of Fence is Best for You
Are you looking for functionality, attractiveness, or maybe both? Our fence company offers a variety of the finest materials made to meet your many needs. If privacy is what you seek we work with many different types of wood and vinyl that can not only keep prying eyes away but also provide stable support throughout the years. Our picket fences are perfect for keeping those pooches and kiddos in while also allowing you to see the neighborhood around you. If you're looking for something that adds to the beauty of your home, we also have plenty of expertly crafted metal fences for you to choose from.
Common Fence Types to Choose From
Vinyl
Chain Link
Privacy
Commercial
Fence Installation Process
We make the installation process quick, easy, and painless for you. Our professional and experienced contractors will have your fence installed without you even batting an eyelash! You can also rest easy once your new fence is in knowing that the fence and installation are backed by a 5-year warranty.
The installation process itself will vary on the type of fence you choose. All yards will need to be excavated, of course, but no worries. All you have to worry about is making sure your yard is clean and things are out of the way.The contractors will disturb the soil and grass to secure the fence and assure its stability. They will always restore any replace any holes or missing sod, leaving your yard looking like new around your beautiful newly installed fence. Our contractors are qualified and endorsed to ensure the best work and end result possible to make sure you are highly satisfied.
Fence Installation Company Andover, MN
Fence installation can be a great decision for you and your family. Not only can you benefit from the safety and privacy a new fence can bring, but you can take pride in the beauty and value it can add to your home. Now that you are ready to install your new fence, our fence installation contractors in Andover, MN can get you started and see you through the process. Contact us today to pick out that new fence! (763) 755-0088