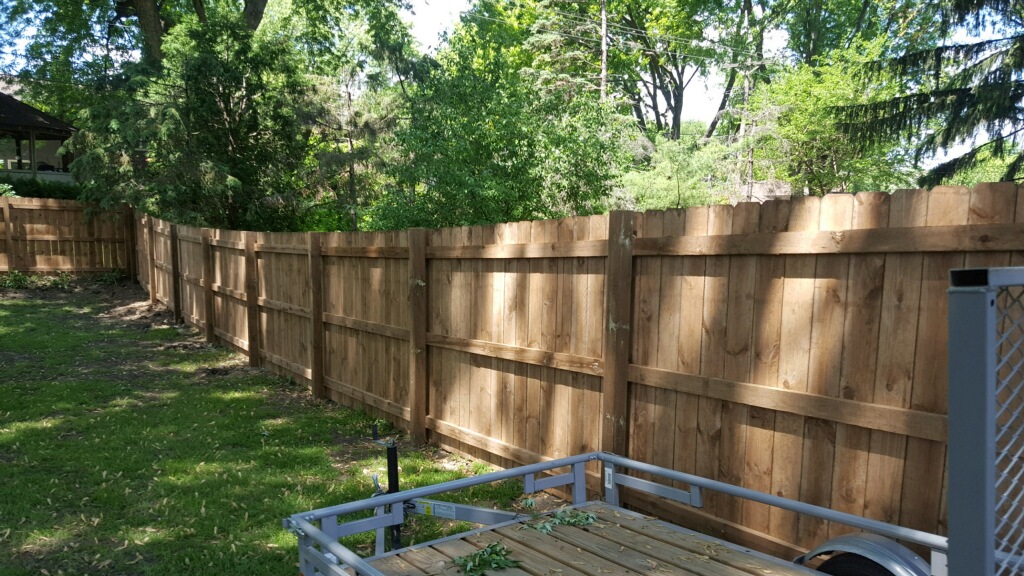 As a long standing Coon Rapids Privacy Fence Installation Company, Arrow Fence has completed countless of Privacy Fence Installations in the local Twin Cities Area. When we speak with our clients on what is driving their desire for a fence there are many different answers. But when the answer is that they want more privacy, we help narrow down the exact privacy fence material and options that not only meets their local code, but helps them maintain their visual appeal and also maintenance requirements.
What to consider when adding a privacy fence to your home…
If you are looking for a little more seclusion around your home, there are many options. You may be looking to shield your larger picture windows, keep your pets in your yard with a little less barking, or you may just be looking for a bit more peace. Privacy fences are the way to go to achieve some solitude. Many factors will affect your decision. Our fence contractors near Coon Rapids can recommend what to take into consideration when choosing the perfect privacy fence for your home.
Amount of privacy 1 – 10
Many varieties of fencing exist, but when choosing a privacy fence specifically, height is a concern. Privacy fences become such when they are measured at no less than 4 feet high. Growth from there depends on your preference, but those 4 feet will offer you that barrier to the outside world for adequate privacy. Another thing to mull over is if you want any part of your fence to offer some intricate detail that may let a bit more light in as well as add some design charm. Latticework at the top of your fence provides a perfect example of the aesthetics you can use to give your fence and landscape some character. Typically, the first four feet or so of the fence could be closed off from any exposure end-to-end. The top one or two more feet could allow for intricate woven designs that allow some gaps in for an artistic style and feel while keeping your privacy as you would like it.
 Which Type of Fence Material to Choose
Qualifying privacy fences tend to not have holes or gaps, as would be standard with barbed wire or picket fences. Wood and vinyl make adequate privacy fences due to the ability to fuse or align panels together for a solid barrier. A variety of wood, stains, and designs can be used to create the motif you are looking for while protecting your property from on-lookers. Vinyl can also be placed with a clean, streamlined look that adds both architectural value and privacy at the same time.
Coon Rapids Privacy Fence Installation Professionals
Our Coon Rapids fence installation professionals can help you with your fencing needs. Our local fencing professionals will help you pick the proper privacy fence to fit your vision and your budget. With the right privacy fence, you can enjoy the stunning seclusion your residence needs.