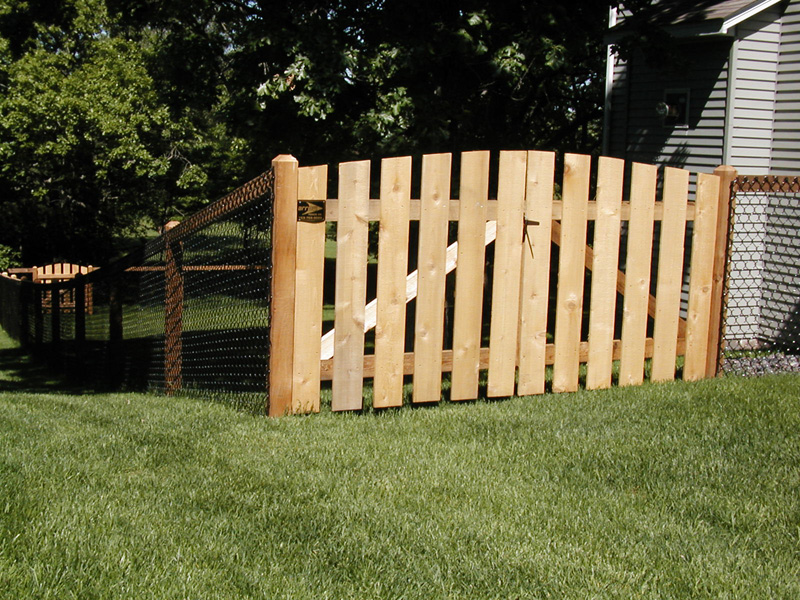 Are you in the market for a new or upgraded fence? You may be wondering which type of fence will best suit your needs. The idea of a "practical" fence may mean different things to different people depending on the type of use you are looking for. Given the wide variety of choices out there, let's break down the differences between the popular chain link fences and wood fence options and see which style is for you. Your Local Fence Installers at Arrow Fence Co in Ham Lake can help you along your way. We do everything we can so our clients are happy about their fence for years to come!
Should you get chain link or wood fencing?
Chain-Link Fence Installation
Are you trying to decide between vinyl, aluminum, or steel? You may want to consider choosing a steel chain-link fence for a very supportive possibility. Fences of this material are very sturdy and are strong enough to stand up to high winds and storms. A very enticing upside of chain link fences is that they can be less costly than a wood fence. Unless you are getting extra add-ons such as added fabric or a coating of extra vinyl, these fences are relatively quick to put in, so you'll be saving on the labor, and the material proves a bit cheaper to get and to maintain. For those of you who want stability and security and aren't necessarily worried about obstructing the view onto your property, the basic chain link fences could be your best bet.
Wood Fence Installation
Our fence installation contractor can also recommend the best types of wood fencing for you. Cedar is a very common and sturdy material to give you adequate protection against the elements. Wood fences are also very pleasing to the eye and provide a greater deal of privacy. Wood fences can be easily stained or crafted to fit your decorative taste. If you are looking to compliment your landscape from inside your yard and not cause an eyesore for passersby on the street, a wood fence can provide you with that benefit. These fences also provide security for any pets that may be getaway artists. This is due to the fences' large boards that do not offer any gaps or means of an easy escape.
Contact our Highly Rated Fence Installation Team in Ham Lake
Now that you have a better idea of these two types of prevalent fences, you can decide which fits your aesthetic. Whether you are looking for strength, security, appearance, or more, our fencing company can find you the right fit. We are experienced and skilled enough to customize to all of your needs. Even install a combination of both fencing types, if your local code and property are fit for it!