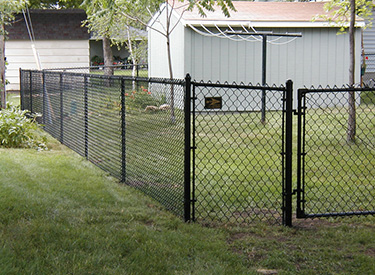 Many homeowners want to add a fence. But the cost of Traditional Wooden Fencing can put a strain on some homeowners budgets, as can Maintenance Free Vinyl. This is where black chain link fence comes in. This type of fence happens to be one of the most affordable and preferred fences by many people in Isanti MN. Black will complement any color, meaning that no matter what the background is going to be, your fence will be a welcomed addition.
Benefits and Functions of a Chain Link Fence
Black chain link fence comes with many benefits and functions. One of the benefits of a chain-link fence is the enhanced security of your property. By installing this type of fence, you can easily see outside and inside your property. So, at all times you'll be aware of something suspicious is taking place.
Additionally, the black chain link fence is quite durable. It can put up with any poor weather conditions. Snow, heavy rain, frosting, or anything can't affect its toughness and appearance. There are galvanized and vinyl coated options, which means rot and rust are a thing of the past! Water won't hurt the footings, they will be standing for decades to come.
Another benefit of this fence is that it's affordable. The overall cost for chain link fence installation in Isanti MN is only a fraction compared to doing an entire concrete fence or other costly types of fences. Moreover, this fence doesn't need a lot of maintenance and can last for many years.
Vinyl can be added to your fence to enhance its protection against bad weather. Vinyl coated chain link fencing is more secure, looks fabulous, withstands any weather elements, and lives longer. Other materials are also used to boost the strength and durability of this fence. Galvanized chain-link fencing can last for about 12 years or more with little maintenance and are ideal for residential applications.
Black Chain Link Fence Installation in Isanti MN
If you're ready to install a new black chain link fence around your property, you must ensure that you hire the right contractor to help you with the installation. There are many companies out that offering chain link installation but not just any can give you the kind of service you need.
We are authorized to do fencing in Isanti MN and we boast of well-trained and highly experienced personnel. With over 50 years of experience, we are dedicated to ensuring that we offer proper installation to you as the property owner. We also stand behind our services by offering up to 5 years installation warranty. Hire us with confidence!