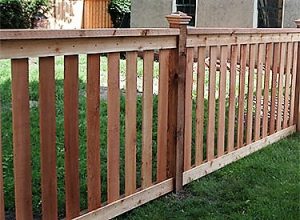 Arrow Fence Company provides Andover Fence Installation Services. For over 50 years our company has been installing Wood, Vinyl, Steel, Aluminum & Chain Link Fencing for Residents and Businesses. In that time, our company has installed everything from patio rail fencing for apartment buildings to high security perimeter fencing for corporate locations and everything in between. Arrow Fence Co. is your solution when looking to hire only the best to install a fence that is backed by a warranty from both the manufactures and the installers.
What makes for Better Andover Fence Installation Services?
Installing fences is an artwork. A great amount of technique plays a role in the outcome. One crooked panel can compromise, not only the look, but also the structural integrity of the entire fence. Lining up the fence with the ground too close or too far can lead to a variety of issues too. If the fence is too close, the ground will put added pressure on that section and start eroding or warping the materials. If it is too far off the ground, dogs can sneak out, animals can sneak in and it isn't doing its intended job. So don't hire the first contractor that tells you they can do it. Take your time and learn about the fence company you want to work with. If you do that, chances are you will love the outcome of your fence and will have no unexpected issues.
Our Andover Fence Company makes it easy for you to learn about us. We are all over the internet. Check our Google Map Listing and Facebook Reviews and see what our past clients have to say.
Andover Fence Installation Services | Popular Fencing Materials
Wood – Wood Fencing is fantastic. Cedar Wood is perfect for constructing sturdy privacy fences, detailed decorative fences and when properly maintained with stain or paint, the fencing lasts and lasts. Many people like this choice because it was not derived in a factory, instead harvested from the earth. Which makes this fencing material more naturally sourced. Because of its natural design, it does require more maintenance and that is a factor that needs to be considered when selecting fence materials.
Vinyl– Vinyl Fencing is made of basically plastic and resin. The resin coated over the plastic makes it impervious to the elements. And because it does not rot, warp or chip, the cost is a bit steeper than wood. If it is in your budget to consider vinyl, it will save you a lot of time on maintenance, as opposed to wood. The BuffTech Vinyl fencing we offer our clients is built to last longer than wood; another feature worth your consideration.
Steel – We offer Welded Steel Fencing, for the highest measure of durability and strength. And let's not forget it's striking looks. A steel guarded property has a solid boundary, and if you add a gated entrance, the property is highly secure.
Aluminum – If you're in the market for a cutting-edge look, that is unique, eloquent and solid; an Aluminum Fence may be at the top of the list.  There are so many ways to customize the aluminum fencing we offer to our clients. Select from different colors,
Chain Link – A chain link fence is considerably the most affordable fencing option. Even so, just because this fence is affordable, doesn't mean it's not worth the investment. Chain link fencing is fantastic for those with dogs, kids, large and small yards. We offer a variety of finished chain link fencing, our three most popular styles are California, Galvanized and Vinyl Coated.
Andover Fence & Gate Installation Services
Contact Arrow Fence Co. to receive a Free Fence Installation Estimate in Andover, MN. (763)755-0088