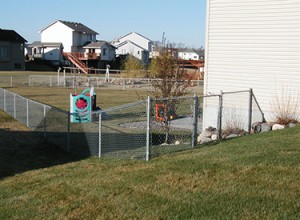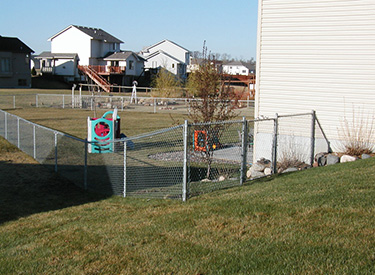 Are you considering just how affordable chain link fences are? They are fantastic at protecting animals and ensuring small children don't wander off into danger. Arrow Fence Co. installs Affordable Chain Link Fences all around Coon Rapids and surrounding Minnesota suburbs. We would love to offer you a free estimate. Let us show you how we can enhance your outdoor living situation, without the heavy price tags.
Call us today at (763)755-0088
Chain Link Fence Coon Rapids MN
Add a chain link fence to your yard and enjoy affordability & security right outside your door. Arrow Fence Co. offers a few options when it comes to chain link fencing. Your specific application will really be the determining factor in which type is right for you.
Galvanized Chain Link | Built To Last
Like a knight riding into battle, this chain link fence is covered in armor. This will protect its stance in your yard throughout the years. As the seasons come down on it, it will not rust, wither or fade.
Vinyl Coated Chain Link | For a Polished Look
Adding a layer of vinyl to a galvanized fence gives it a softer touch and a more polished look. The vinyl coating comes in green, black, and brown – to better complement your home or property.
Privacy Chain Link Fence | Putting the Shades Down
Want a privacy fence but not quiet in your budget? Have you seen our Private Chain Link Fences? We slide slats through the fence to block the views. There are multiple color options when privatizing your chain link fence.
Check Out our Galvanized & VInyl Chain Link Fence Gallery!
Chain Link Fence Installation Company Coon Rapids
Contact Arrow Fence Co. today for a free estimate on a chain link fence in your yard. (763)755-0088..